The Definitive Guide to the Top 5 Chicago-Style Hot Dogs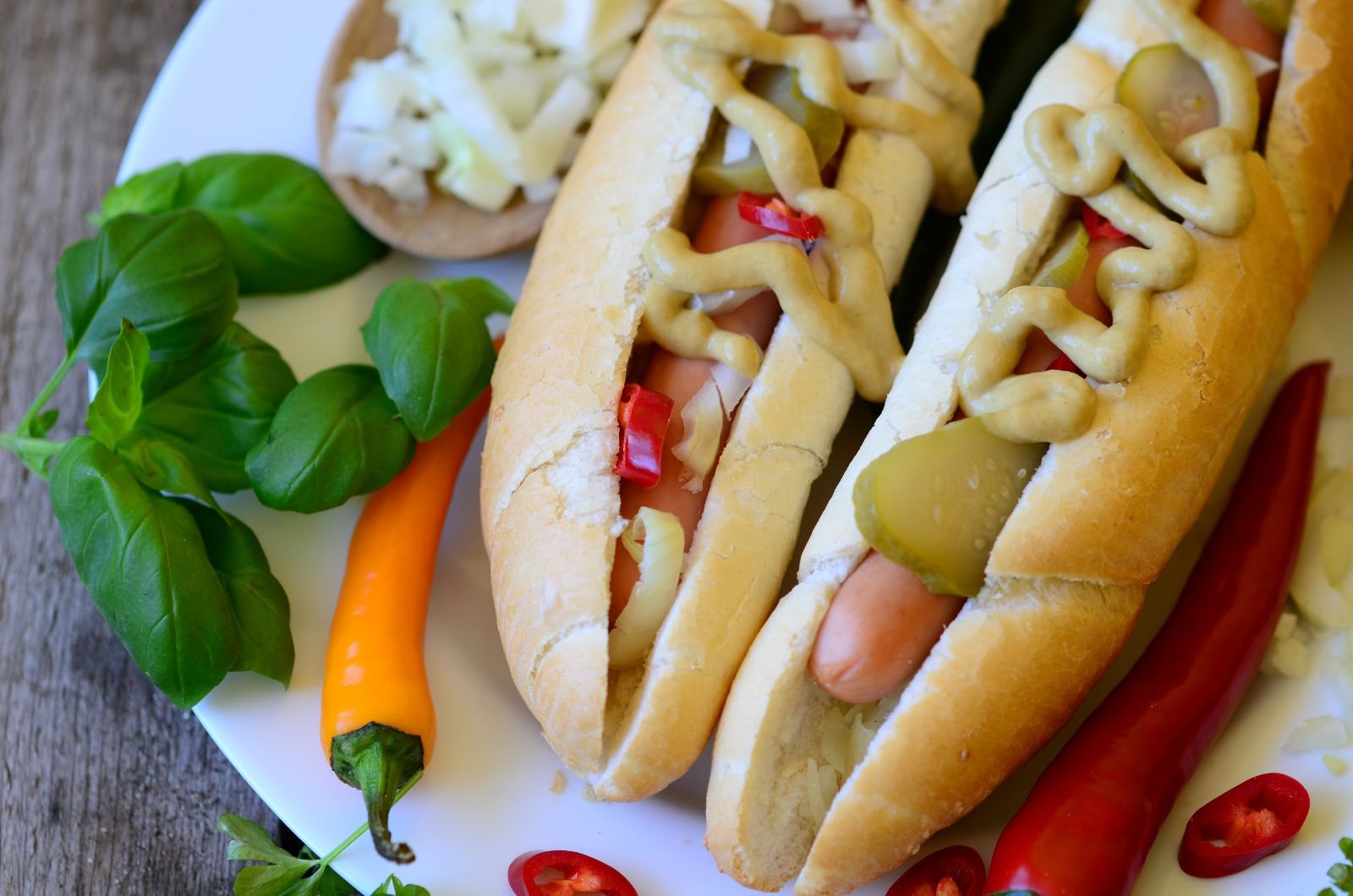 Mar, 03 2016
---
No Ketchup Allowed!
First and foremost, I am obsessed with Chicago Style Hot Dogs. As a Managing Broker in residential real estate, I very often plan visits to hot dog stands around the neighborhoods I am working in. What's more, on my 29th birthday my lovely wife, knowing my obsession, planned an entire day where we ate at 10 different Chicago hot dog restaurants (yes, I did eat 10 full hot dogs on the same day and it was glorious). I have eaten at dozens of what many consider the best hot dog joints in this great city and have narrowed them down to five of my favorites.
Although there are some variations, let's define what a true Chicago-Style hot dog (or a Chicago-Style red hot as many will call it) really is. A true Chicago-Style hot dog can be either steamed (a red-hot or steamer) or grilled (a char-dog). They are nestled in a steamed poppy seed bun and topped with yellow mustard, raw chopped white onions, bright green sweet pickle relish, a dill pickle spear, tomato slices or wedges, raw cucumber slices, pickled sport peppers, a dash of celery salt and absolutely NO KETCHUP. Ask any true Chicagoan how a hot dog is prepared and the first thing you will hear is that Ketchup is an absolute blasphemy. In fact at many of your traditional Chicago Style hot dog stands even the mention of ketchup can either get you kicked out of the establishment or at least deeply ridiculed. True story, I was enjoying a foot-long Char-Dog at Murphy's, when a father, in front of his son, asked for ketchup on his dog. The owner says, "Get out. Now! Your son can stay." This seems a little drastic, but shows just how serious we Chicagoans are on this rule.
Now that we've all had a lesson on what to expect and how to properly order these wonderful culinary creations, let's get to the list of the best 5 places to get them in the windy city!
#5A - WIENER CIRCLE - 2622 N Clark St, Chicago, IL 60614
Located in the ultra-convenient Lincoln Park neighborhood, this Chicago legend is best known for its char-dog version of the Chicago staple and for the two-sided verbal abuse between patrons and staff during late weekend nights. On the hot dog side they crack our top five by delivering a consistently great, grilled Vienna Beef hot dog and by being extremely generous with the toppings. Not to be outdone by the great dogs, the aforementioned banter between the patrons and staff in the wee hours of weekend nights, borders between witty, playful, and sometimes downright crude. For those who aren't ultra sensitive it can be a very entertaining and delicious late night meal!!
#5B – ALLIUM at THE FOUR SEASONS HOTEL – 120 E Delaware Pl , Chicago, IL 60611
Yes I know, I'm cheating by adding a 6th hot dog to the list, but there are just so many great ones, it's too hard to choose. This establishment doesn't just serve up the traditional Chicago dog; they do a more "high-end version." Although they do stick to the traditional toppings they certainly step it up a notch by making everything from scratch and use farm raised beef for their dogs. These dogs start off in the smoker creating that wonderful snap any good dog should have, then they boil it, and finally gently char the dog to perfection. They follow with homemade mustard and extremely fresh toppings to create this one of a kind take on a Chicago tradition, leaving the customer in a state of euphoria and nostalgia. This unique take is definitely a must try!!
#4 – FATSO'S (OR PHIL'S) LAST STAND – 2258 West Chicago Ave, Chicago, IL 60622
Fatso's not only has a great Char-Dog but they are also home to a couple other famous menu item's such as the Fatso Burger (excellent by the way) and the Fatso's Po'Boy Challenge. The challenger must finish a 2 lb. po'boy with all the sides to win a T-shirt! This late night spot (open til 4am on the weekends) does not disappoint on the hot dog front. Again, with a focus on the Char-dog, the aptly name Fatso's, piles the toppings nice and high and delivers a consistently great dog. Don't forget to say hi to the owner Phil who is normally found at the counter greeting patrons on his bar stool.
#3 – SUPERDAWG DRIVE-IN – 6363 N Milwaukee Ave, Chicago, IL 60646
One of the coolest spots to go in all of Chicago is like going back in time. Superdawg still operates as an old school drive in where you pull in to your parking spot and order right from your car. Then actual parking lot attendants bring you your food piping hot and ready to eat (no roller skates though). Boasting their very own Superdawg with all the fixings, there is something about the nostalgia of this place that makes it a must stop for the hot dog lover! Not to mention the other delicious food, their Superfries are hand cut and are consistently among the best in the city.
#2 – WOLFY'S – 2734 W Peterson Ave, Chicago, IL 60659
As you drive west down Peterson Avenue you will be struck by the giant, red, lit-up sign featuring a massive fork. Wolfy's is your classic hot dog joint serving up amazing dogs, burgers, sausages, and French fries. They use the classic all beef Vienna hot dog and you have the choice of a steamer or char-dog and of course all the fixin's. Perhaps the best part is the wonderful ambiance of an old-school diner, as they haven't changed since 1967 (they don't even have a website). This long time Chicago haunt never disappoints and don't forget the famous cheese fries, they are the perfect complement to a juicy dog!!
#1 – MURPHY'S RED HOTS - 1211 W Belmont Ave, Chicago, IL 60657
Ruling supreme on this list of amazing Chicago-Style hot dogs is Murphy's Red Hots in the super popular Lakeview neighborhood. The owner of this great establishment Bill Murphy and his family live right above this quaint hot dog stand. Sticking only to the famed Vienna Beef hot dog; they do both steamers and char-dogs to perfection. The staff includes his family and a couple choice employees making it the kind of place where they always remember your name and most importantly, your order. I will admit, I do like a small variation to tradition, extra sport peppers. This has earned me the title as a "tough guy" every time I walk in the door. Since I do not live in the neighborhood, I make it a point to find every excuse I can to visit Murphy's. In fact these hot dogs are so good, a group of Japanese business men once started a line of hot dogs stands based on this joint in Japan that are still in existence today! Murphy's is truly where to get the best in Chicago dogs.
In a city full of great hot dog stands these Five (6) really stand out. Whether it's looking for a great local lunch or a late night snack, a hot dog can always hit the spot. No matter where your Chicago apartment is in this amazing city, there is sure to be a hot dog stand or restaurant near you! I hope you enjoyed the review and happy eating!!

For information on Chicago corporate housing, visit our website at www.pfsuites.com/chicago, or search by neighborhoods at the following links!

River North Corporate Housing
https://www.pfsuites.com/chicago/river-north

The Historic Chicago Loop Furnished Apartments
https://www.pfsuites.com/chicago/the-loop

The Vibrant Chicago West Loop Short Term Housing
https://www.pfsuites.com/chicago/west-loop

Streeterville Furnished Chicago Apartments
https://www.pfsuites.com/chicago/streeterville