Avoiding Corporate Chaos: A Guide To Business Travel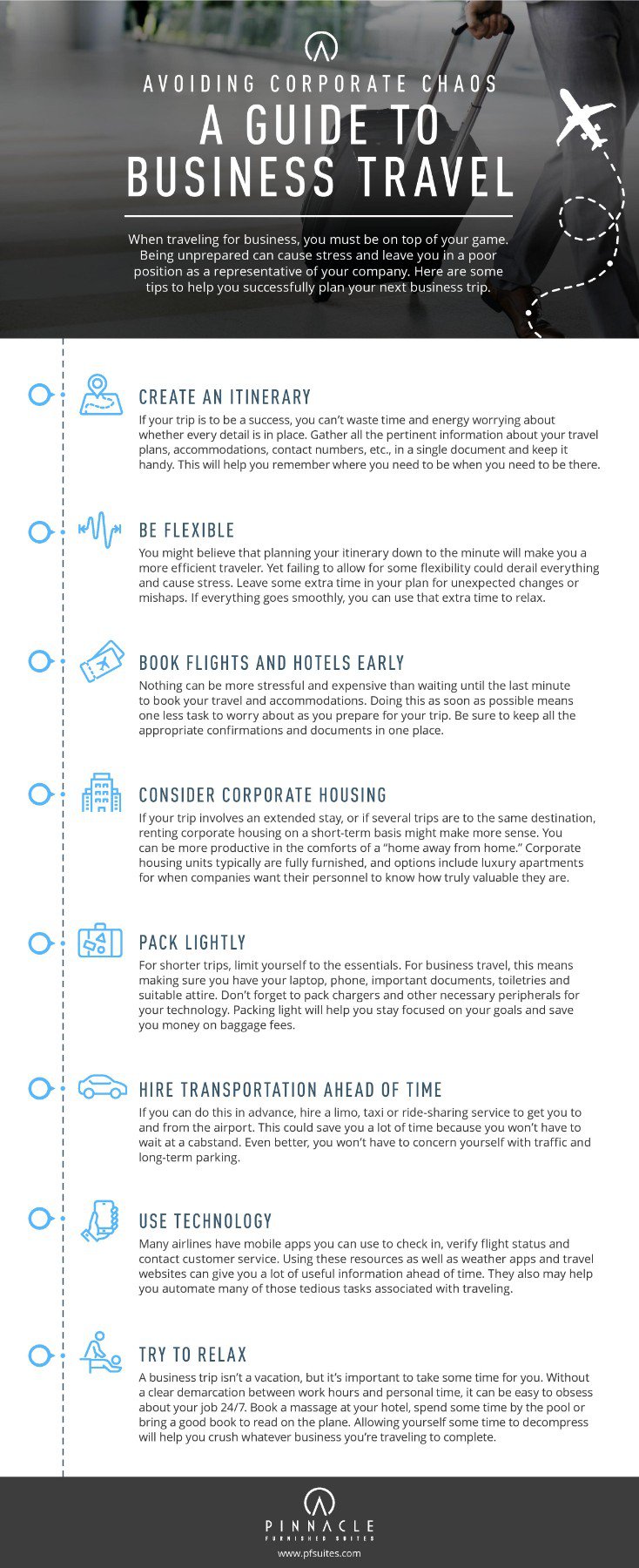 Apr, 29 2019
---
Traveling for business means you have a job to do. Whether it's winning over a new client, overseeing a crucial project or representing your company at an event, you need to bring your "A" game. There's already a lot riding on your performance, which is why you can't afford to leave anything to chance.
Unfortunately, the simple act of getting where you need to go can be extremely complicated. Planning a business trip means coordinating a lot of details, and that can be a job in and of itself. Unless you're one of the lucky few who has help from a personal assistant, chances are, you'll need to go it alone.
However, all it takes to have a successful business trip is some proper planning. By taking the time to prepare, you can avoid many stressful situations that could make travel for any reason a hassle. For example, booking your flight and accommodations as soon as possible means one fewer issue you'll have to deal with as you get ready for your meeting or presentation. It's also a good idea to pack light unless it's for an extended stay.
For even more tips you can use to plan for your next excursion, take a look at the accompanying guide.
Avoiding Corporate Chaos: A Guide To Business Travel
When traveling for business, you must be on top of your game. Being unprepared can cause stress and leave you in a poor position as a representative of your company. Here are some tips to help you successfully plan your next business trip.
Create an Itinerary
If your trip is to be a success, you can't waste time and energy worrying about whether every detail is in place. Gather all the pertinent information about your travel plans, accommodations, contact numbers, etc., in a single document and keep it handy. This will help you remember where you need to be when you need to be there.
Be Flexible
You might believe that planning your itinerary down to the minute will make you a more efficient traveler. Yet failing to allow for some flexibility could derail everything and cause stress. Leave some extra time in your plan for unexpected changes or mishaps. If everything goes smoothly, you can use that extra time to relax.
Book Flights and Hotels Early
Nothing can be more stressful and expensive than waiting until the last minute to book your travel and accommodations. Doing this as soon as possible means one less task to worry about as you prepare for your trip. Be sure to keep all the appropriate confirmations and documents in one place.
Consider Corporate Housing
If your trip involves an extended stay, or if several trips are to the same destination, renting corporate housing on a short-term basis might make more sense. You can be more productive in the comforts of a "home away from home." Corporate housing units typically are fully furnished, and options include luxury apartments for when companies want their personnel to know how truly valuable they are.
Pack Lightly
For shorter trips, limit yourself to the essentials. For business travel, this means making sure you have your laptop, phone, important documents, toiletries and suitable attire. Don't forget to pack chargers and other necessary peripherals for your technology. Packing light will help you stay focused on your goals and save you money on baggage fees.
Hire Transportation Ahead of Time
If you can do this in advance, hire a limo, taxi or ride-sharing service to get you to and from the airport. This could save you a lot of time because you won't have to wait at a cabstand. Even better, you won't have to concern yourself with traffic and long-term parking.
Use Technology
Many airlines have mobile apps you can use to check in, verify flight status and contact customer service. Using these resources as well as weather apps and travel websites can give you a lot of useful information ahead of time. They also may help you automate many of those tedious tasks associated with traveling.
Try to Relax
A business trip isn't a vacation, but it's important to take some time for you. Without a clear demarcation between work hours and personal time, it can be easy to obsess about your job 24/7. Book a massage at your hotel, spend some time by the pool or bring a good book to read on the plane. Allowing yourself some time to decompress will help you crush whatever business you're traveling to complete.
Pinnacle Furnished Suites