4 Of The Most "Chicago" Places To Eat In… Chicago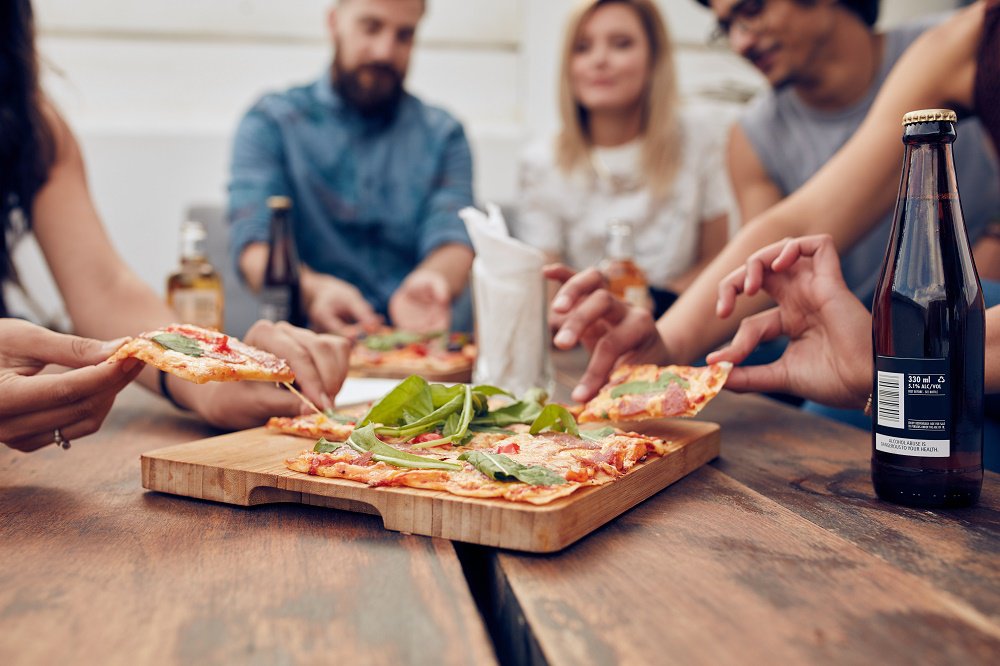 Jul, 13 2016
---
Chicago is the third largest city in the United States with more than 2.5 million people and more than 7,300 restaurants to choose from, it can be a little daunting. So, if you are looking for true Chicago experience during your short-term stay, then I advise you to keep reading. Whether it be the pinnacle of meat-in- tube-form, our famous deep dish pizza, some old school Italian, or the best corned beef you'll ever try; Chicago's your oyster.
1. Pizzeria Uno
Courtesy of Pizzeria Uno
If you want a true, Chicago-style Deep Dish Pizza experience, head straight to Uno's, put your name in (no reservations), then head down the street for a drink while you wait. Invented by Ike Sewell, Deep Dish Pizza was first served at Pizzeria Uno, which opened in 1943 at 29 E Ohio, where it still stands today.
Unlike any other pizza, Deep Dish Pizza is stuffed with fillings rather than topped. It starts with hand tossed dough, pressed into to the baking pan, layered with fresh mozzarella, filled with toppings of your choice (I suggest Italian sausage, we're in Chicago after all), then layered with more mozzarella, and finally topped with their homemade sauce and a dusting of parmesan.
The Pizza comes out of the oven piping hot with a crispy, almost burnt; crust, while the inside stays nice and tender. The mozzarella will stretch and pull as you lift your slice out of the pan, and the Italian sausage is some of the best you've tasted. It is truly a bite of food you must experience. Honorable Mention: Pizzeria Due's; their sister restaurant
2. Murphy's Red Hots
Courtesy of Murphy's Red Hots
Murphy's Red Hots sits on the corner of Racine and Belmont in the beautiful Lakeview Neighborhood on Chicago's near north side. This venue offers up the very definition of a true culinary masterpiece; the Chicago Style Hot Dog.
What makes Murphy's the best of the best is their commitment to tradition and ingredients. The dog, sourced from the local (and famous) Vienna Beef Company, is the only style that should be served as a Chicago dog. The dogs can be ordered as Red Hots (steamed) or as a Char-dog (grilled). My go-to is the foot-long char-dog in a poppy seed bun, with all of the fixings, which are: yellow mustard, raw chopped white onions, bright green sweet pickle relish, a dill pickle spear, tomato slices or wedges, raw cucumber slices, pickled sport peppers (get extra), a dash of celery salt and absolutely NO KETCHUP. Seriously, this is considered blasphemy.
Murphy's Red Hots quickly became a mainstay in the neighborhood and has been inducted into the Vienna Beef Hall of Fame. It was even used as a model by Japanese businessmen for a chain of hotdog stands in Japan. Honorable Mention: Weiner's Circle, Fatso's Last Stand, Superdawg
3. Manny's Delicatessen & Cafeteria
Courtesy of Manny's Delicatessen & Cafeteria
Family owned and operated for 51 years, Manny's Deli is a no-frills, neighborhood cafeteria, specializing in Jewish fare and served in large portions. Manny's is located just off of West Roosevelt Rd. on South Jefferson St. near the storied Maxwell St Market. Manny's offers a variety of delicious Jewish dishes from oxtail stew, short ribs, kasha and noodles, to Maztoh ball soup, knish, and a variety of deli sandwiches, the best of which is their Corned Beef. This is an absolute must-try when you visit Manny's. They hand make their corned beef from scratch everyday and they pile it high on rye bread with a smear of yellow mustard, you will not leave hungry.
Manny's has a massive following of regulars including some patrons you may have heard of in Barack Obama, Jerry Seinfeld, and Steve Harvey. It has also been featured on the Travel Channel and Food Network. Honorable Mention: Eleven City Diner
4. Tufano's Vernon Park Tap
Courtesy of  Tufano's Vernon Park Tap
Tufano's is a true family and neighborhood Italian joint, located in the Little Italy subset in Chicago's Tri-Taylor neighborhood, and has been family run for 4 generations by the DiBuono's.
Tufano's boasts tried and true family recipes including staples such as their broiled Lemon Chicken, handmade Eggplant Parmesan, and Chicken Picante, all of which can be ordered off of the giant chalkboard menu's on various walls in the restaurant. Although you can't go wrong with any of the aforementioned dishes, my favorite dish is their Mussels in White (wine sauce). I think I am going to go get that right now!
The DiBuono's are some of the biggest Chicago Blackhawks fans you will find and have hosted many Hawks' players and coaches throughout their years. Along with the Hawks, Tufano's has hosted many athletes, celebrities, and politicians. They were even highlighted on Food Network's Diners, Drive-Ins, and Dives. Honorable Mention: Briciola
The next time you are heading to Chicago, consider renting one of Pinnacle's beautifully furnished suites. Unlike the typical hotel, these suites are designed to provide you with a home away from home. And even more important, they are in great locations central to many of Chicago's most prominent neighborhoods. During your stay, take the time to visit a few of the four best "Chicago" restaurants that, well, Chicago has to offer. To learn more, contact Pinnacle Furnished Suites today.